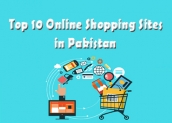 Top 10 Online Shopping Sites in Pakistan
Before listing best online shopping sites in Pakistan, I'd like to share what is online shopping and why it becoming popular day by day.
Online shopping is basically a way through which buyers can easily buy products or services online using the internet. The websites website where buyers purchase online products/services are known as eCommerce sites.
Recent boom in informative technology, expansion in internet and introduction of 3G, 4G or LTE services in Pakistan, the trend of online shopping has been dramatically increased. In just one click, buyers can place orders and get their products within few days at their doorstep.
Without further ado, I'm going to share top online shopping sites in Pakistan where you can buy range of products easily.
10 Best Online Shopping Sites in Pakistan
1. Daraz
Here in top 10 shopping sites in Pakistan, I put the daraz store on number 1. Because of its multiple facilities that they bring for their customers.
Daraz is the only store that not only famous in Pakistan but also a top e-commerce site in Asia. It bought each & every product that are the needs of the modern world.
2. Lootlo
Lootlo.Pk starts their journey in 2013 and now it becomes one of the leading online portal in Pakistan. Their main Goal is to provide a discount on a different product.
You will get every type of product through lootlo such as salons, health services, education, travel, hospitality, automotive services and many more.
3. Homeshopping
You can assess with its name about what type of website it is and what they offer to their customers. Its touchy name attracts the customers to select it for shopping.
Their main objective is to give comfort and relaxation to its customers. It is the store where you get countless products of different categories. Choose it for your next shopping to make your online shopping experience wonderful.
4. Yayvo
Yayvo.com is a reliable e-commerce site that is built in 2012. It is the right place where you get a genuine product at a discount price at a doorstep.
Their main purpose is the satisfaction of the customer that is the goal that makes it unique and famous among different e-commerce site.
5. Shophive
Arslan Nazir is the owner of the site shophive.com and it was launched in 25 Jan 2006. Shophive is the top retailer store in Pakistan that is offering the all kind of product by connecting with the international and national companies.
Other best online shopping sites in Pakistan are as follow:
6. Symbios
7. ishopping
8. Telemart
9. Goto
10. Shopdaily
11. BrandyStuff
All the sites that I told above are really reliable and confident. You can freely do shopping from there and make your first experience of online shopping well and good. I hope, this list of top 10 online shopping sites in Pakistan beneficial for you and makes easy for you while selecting the online store.
Read Also: How to Save Money? Ultimate Guide for Shoppers
Author: Anish Mujahid