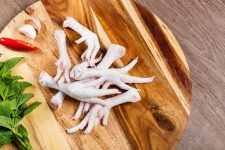 Chicken Feet For Dogs; Guide For Beginners
Chicken feet is the most popular food for dogs now a days. In different parts of the world, people also eat chicken feet or use to make a delicious soup.
In this article, I will explain what are chicken feet, highlight the pros and cons of chicken feet for dogs, and some other relevant questions about them. So, keep reading this article 🙂
What Are Chicken Feet?
As the name suggests, chicken feet are the feet of the chicken. Chicken feet is the food supplement for dog. In another word, chicken feet are the waste part of the slaughtered chicken.
Raw: 

The chicken feet you easily buy from butcher shops as they cut off the chicken or from the local market. They are fresh or frozen and they need a wash before giving them to your dog you give them fresh or frozen.

Dehydrated: 

They are clean, dehydrate, and packaged before you buy them they have a long shelf life of over six months they are yellow in the color and look better than raw.

Puffed: 

They are similar to dehydrate however they are air-dried and contain more vitamins and nutrients in the drying process they are white in the color and retain their shape better
Are Chicken Feet Good For Dogs?
Chicken Feet Are Suitable When They use in the raw form or the dehydrated form because the bones are crunchy and crumbly which they eat easily when you cooked the chicken feet it may cause blockage for your dog because the dog cannot easily crunch them into their teeth.
So you should need to give chicken feet like in the raw form which they easily eat and digest. Chicken feet also contain the fat element which increases the weight of your dog they usually contain 20-25% fat and also contain protein of 45-50%.
Can Puppies Use Chicken Feet?
As the puppies' teeth are not strong as compare to young ones you Should need to avoid them give chicken feet it cause swollen gums to your puppies and also sometimes blockage to their system which is very harmful to your puppy which causes some serious injuries.
Some people said that your puppy can use chicken feet when they are four months when they lose their baby teeth and new teeth are now in appearance. And other peoples said that when your puppy gets 7 months then you give them chicken feet that are easy to chew them and free of any danger.
Are Chicken Feet Harvested?
Chicken feet are the cut of chicken they are not harvested for the dogs treat. They are very cheap in rate and not are expensive. Sometimes they offer the free of cost instead off throw them in the garbage.
Recipe For Chicken Feet?
Chicken feet are easy to cook they are not taking too much time and cooked easily. You should use chicken feet as dried, frozen or sometimes You Used to boil them into the water, bake them in the oven to crunch them.
It is a natural food that increases the life of your dog as compared to using artificial food chicken feet are hygienic You Should use in quickly and no stock for many days without a freezer.
Alternative For Chicken Feet
Chicken feet are natural food for dog's but you can also use some other natural food like
Chicken neck 

is also a natural food for dogs which they eat more happily as compare to chicken feet because they are full of bones which they enjoy to eating.

Rabbit ears 

are also used as a substitute for chicken feet rabbit ears are very soft which they eat easily and have no smell it contains low fat as compare to chicken feet. It is full of hairs some people cook them after clean it and some use as it is.

Duck feet

 use as compare to chicken feet but they are not easily available as compared to chicken feet.
There are some other substitutes like biscuits, chicken, meat, salmon turkey, and many more which contain calcium and protein which keep your dog sharp and fast.
Are Chicken Feet Stored?
 You can maximum store chicken feet for six months. But you should need to use it in a quick way to get more taste.
Where to buy chicken feet
You can buy them a butchers shop it is very cheap in rate and easily available at any time. You can also buy them from raw paw pet food, raw wildllc, canna pet for exclusive discounts, coupons, vouchers, and promo codes so hurry up and save your money and make more purchases. If you buy it from Voucherist.com you can get extra new deals and coupons.
Final Words
Chicken feet are very healthy for your dogs and puppies as natural food it contains all elements of energy and keeps increase your dog's life.
It is good to use chicken feet instead of throwing them in the garbage it is easy to get calcium and protein at in low price it is easy to use a cooked or frozen way.