Ergonomics S600i Original Hands-Free
Ergonomics S600i Original Hands Free Wire Headphone with Metallic,Wired in-Ear Earphones,HD bass Stereo Sound Headphone Volume Control,Human Voice Clear (Grey) by ABINGO
Specifications of
Wired in-Ear Earphones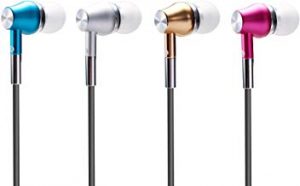 1、【WITHOUT ANY GLUE】The whole headset is made of precision CNC l machine. There is no glue between the components to avoid the weight of the glue, and the quality problems such as degumming and so on because of the long time.

2【METALLIC SURFACE FASHION DESIGN】The ear shell is made of aluminum alloy through the process of carving, showing the perfect texture of metal.

3、【MEDICAL GADE SILICONE MATERIAL AND ERGONOMIC】The earplug is made of medical grade silicone material, soft, comfortable and non compressed, and has good air tightness. It can reduce the pain of ear and the loss of perfect music.

4、【OFC (OXYGEN-FREE-COPPER COIL) CABLE DESIGN】 Reduce distortion. Improve purity of the sound.

5、【HD CALL SUPPORT】Built-in microphone, allows high-definition call. Headphones have good soundproofing to stop background noise and help you focus on your music or calls. Support answer/hang-up call by cable control.