Cyparissus Mens Vest Waistcoat Men's Suit Dress Vest for Men or Tuxedo Vest
Cyparissus Mens Vest Waistcoat Men's Suit Dress Vest for Men or Tuxedo Vest
Specifications of
Waistcoat Men's Suit Dress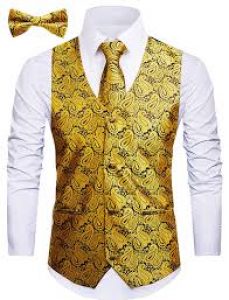 SIZE: true to US size. Note: Some vests are 3pcs, some are 4pcs, others are only the vest, please check our product picture and size chart carefully.

TRADITIONAL DESIGN. With a collarless V neck, 2 besom pockets, a five button front, and a full back style, this vest features an adjuster strap in the back to take in or let out for a proper fit. The vest & accessories also has a fantastic satin finish and is sleek, classic, comfortable, and completely easy to wear.

FASHION AND MATCHABLE. No man's wardrobe is complete without a waistcoat, especially a stylish man. Show everyone your unique style with one of our waistcoats. Wearing a waistcoat doesn't just give you a more sophisticated and smart look, but it also straightens the lines of your outfit, ultimately making you appear slimmer and taller.

VERY VERSATILE. Our waistcoat is a true wardrobe staple, and is perfect for all types of occasions. It is a great choice for everything from proms and weddings, to formal nights on the town, gala affairs, or just to add some fun flair to a casual ensemble, this vest set works with virtually everything whether worn with just the vest, or with a mixing and matching of accessories. It can be paired with a tuxedo or a suit.

PREMIUM QUALITY: Our men vest is made of a combination of high-quality polyester, to make sure you always look classy. The fabric is incredibly soft and breathable, so you won't just look amazing, you'll feel amazing.