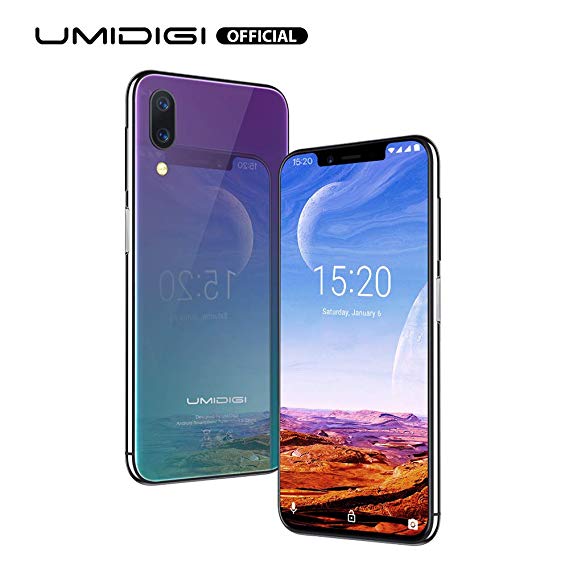 UMIDIGI Mobile One Pro 5.9″ 64GB Unlocked Android 8.1 Cell Phone – 4GB Ram Dual-SIM 4G LTE – 16MP Selfie,12MP +5MP Dual Camera – 3250mAh Fingerprint ID Fast Wireless Charge NFC Smartphones – Twilight by UMIDIGI

Price of UMIDIGI Mobile One Pro 5.9
Price: $169.99
Color: twilight
Size: one pro
Specifications of UMIDIGI Mobile One Pro 5.9
4 GB + 64 GB; latest operating system; Android 8. 1 the UMIDIGI one Pro is equipped with 8xcortex-a53 2. 0GHz Helios P23 processor and can easily handle your daily tasks. The 700 MHz arm MALI G71 MP2 GPU increases gaming and video performance and reduces power consumption by more than 25% compared to its predecessor.

Global bands, Dual sim One Pro Supports 7 network modes and 36 global bands, no worries to take just one smartphone for global travel. Please check if your carrier supports the band for this model before purchasing. Unlocked cell phones are compatible with GSM carriers such as AT&T and mobile, but are not compatible with CDMA carriers such as Verizon and Sprint.

Smartphone with NFC & Side fingerprint Unlock & faces ID Supported with the advanced NFC feature, K10 can be used not only for mobile proximity payment and point to point data transfer, but also as a bus card, entry protection card and so on, UMIDIGI Z2 used the most advanced algorithm to speed up the unlock process. In addition, it is designed for use indoors, outdoors and even in the dark.

15W wireless charging +18W fast charging more cable clutter at your charging station, no more need to plug in when it's time to power on and no more need to remove the protective case while charging, just lay your phone onto the charging pad. UMIDIGI One Pro can be fully charged within 90 minutes through its USB Type-C connector.

New notch design: 5. 9 inch INCELL display, 5. 2 inch size in hand The 6-inch, frameless 19: 9 display lets you experience images of brilliant color quality and high contrast, As well as less scrolling web pages. The strong and extremely thin metal frame with hardened glass case is wonderful in your hand.