Samsung Galaxy S8
Samsung Galaxy S8 64GB GSM Unlocked Phone – International Version (Midnight Black) by Samsung
Specifications of
Samsung Galaxy S8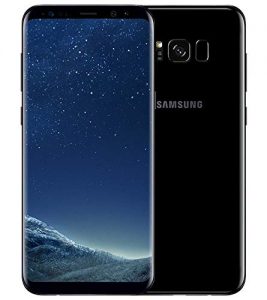 Infinity Display: a bezel-less, full-frontal, edge-to-edge screen. Default resolution is Full HD+ and can be changed to Quad HD+ (WQHD+) in Settings

Camera resolution – Front: 8 MP AF, Rear: 12 MP OIS AF

Memory: Internal Memory 64 GB, RAM 4GB

International model phone, will work with Most

GSM SIM cards in U.S. and world Including AT&T, T-Mobile, MetroPCS,Etc. Does not have US warranty. Will NOT work with CDMA Carriers such as Verizon, Sprint, etc.