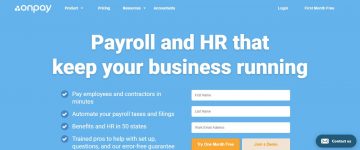 OnPay is the payroll service which has more flexibility and functionality. It is the best solution for all small businesses to create comprehensive employee records and unlimited payrolls each month. The business manager can easily modify and displayed the reports as well as make a customizable new report.
It makes the calculation easy because it can handles all payroll taxes. The most common features of OnPay are Dashboard for HR, tracking conversations about PTO, a document vault, electronic onboarding documents and revamped employee portals. Let's do the complete OnPay Review about its price, features, and much more.
OnPay Review 2021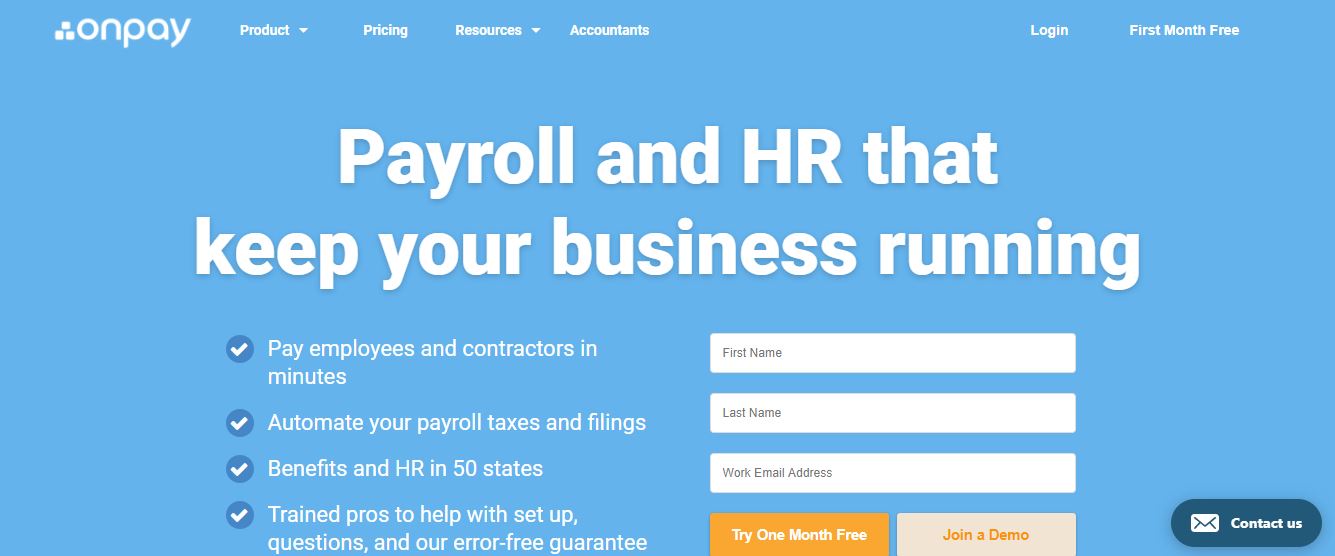 What are the Advantages
Fast and Unlimited payrolls
Flexible Frequency
Custom forms and fields
Improved mobile experience
New Payroll Listing Report
New HR tools and Data
Great Employee Versions
What are the Disadvantages
Mobile versions miss some functions
Text on android app faint
The sprawling site demands extra scrolling
OnPay Pricing
OnPay has maintained the price of $36/month along with $4/employee/month. Meanwhile, some other payroll services such as Patriot give you $25/month plus $4/employee/ month, and Gusto starts $39/month plus $6 employee per month that goes up to $149 base price $12 per person/month.
OnPay Review: Website Features
1# SetUp Assistance
Setup is the labour-intensive part when you build any small business payroll application. There is a need to enter hundreds of details along with accuracy that is quite a difficult part.
Your setup with Onpay depends on whether or not you have paid employees before in your current business. So if you take a new payroll with Onpay, you will go through the entire process.
The online setup process tells you that the payroll specialist will contact you to arrange the data and offers full accuracy. You can create multiple, unlimited scheduled, so you pay employees on different schedules.
2# Adding Employees and benefits
After the initial setup, you need to enter employee records. There are two options: you create the entire record yourself or invite employees to enter it. If you have already employees' personal information, you can set them up these records containing HR details (deductions, compensations, time off and personal files) and payroll.
3# Custome Forms
Onpay also offers new employee records feature, which is easy to create. It contains multiple types of data entry like text boxes, drop-down lists, date fields.
Moreover, you can also define how many hours employees have to work to earn PTO, sick time, and what payment types you use like regular, overtime, and bonus. Onpay has more pay types as compared to other services.
4# Third-Party Services
On pay gives the third-party services that integrate your payroll data with Quickbooks Online. It is the desktop version of QuickBooks, Xero and OnPay is a certified app partner with Xero. Moreover, it offers you account mapping, which helps set up your payroll with your accounting application's account structure.
5# OnPay Dashboard
OnPay opens your dashboard, where links of employee and contractor screens appear at the top of the screen.  There could be alerts and tasks that need attention.
There are four big links such as recent pay runs, next scheduled pay run, important dates and open employee offers.  You can scroll down at any time and see all the details.
6# Has OnPay Mobile and Employee Access Support
Onpay does not offer any mobile app; you can access through a mobile browser. Navigation is easy, and the toolbar is available by clicking a link at the screen's top.  OnPay helps through email, chat and phone Monday to Friday as well as urgent email support on the weekend.
Highly Recommended
OnPay is highly recommended payroll service that expands the HR tools and data. Pricing is transparent and does not charge extra fees. So we can say it is an affordable option for all small businesses.
The working capacity and processing are better than others with unlimited payrolls and easily support up to 100 employees. So you can use Onpay as the best online accounting service.
See: OnPay Coupon Codes
Author: Sadia Nazir